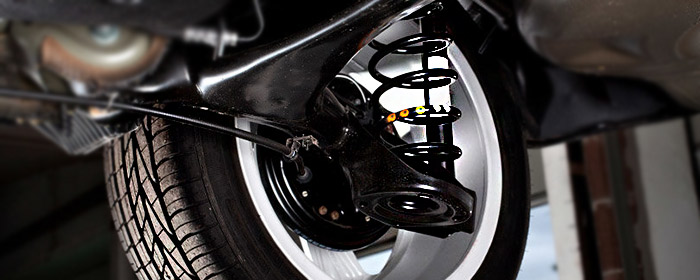 Suspension Service in Sunrise
A car's suspension is built to take care of road isolation, handling and cornering. These principles ensure your car maintains contact with the road at all times, handles well, travels a curved path as expected and is a comfortable ride.
The suspension system is designed to give you a smooth ride while maintaining excellent driving control. When your car accelerates, bumps cause forward energy to be converted into vertical energy, which then travels through the frame of your car. Without coil and leaf springs to absorb this, the vertical energy would cause your car to jump up off the road, reducing tire friction and control. Your car would then come crashing back down onto the road with even greater force, making for a very uncomfortable and dangerous ride.
An Ed Morse Sawgrass Buick GMC experience is a hassle-free experience. Your car will be serviced right the first time — guaranteed.
After finding the root of the problem, we'll talk about your steering and suspension service options. Ed Morse Sawgrass Buick GMC services hundreds of vehicles every day in our location. Our Customers rely on our Certified Service Technicians to keep their cars running newer, stronger, and longer.
Ed Morse Sawgrass Buick GMC is located conveniently in Sunrise Florida, minutes away from in Sunrise, Coral Springs, Lauderhill, Pompano and surrounding areas. You're always welcome to make an appointment, or just come on in to discuss our service options. Come into Ed Morse Sawgrass Buick GMC Service to experience the Ed Morse difference.
Problems:
If your vehicle's steering and suspension isn't working properly, you're in for a bumpy ride – literally. At the first sign of trouble, bring your car in for steering and suspension services. Symptoms of a faltering steering and suspension system include:
Noise when driving over bumps
Vehicle bouncing
Hard turning
Uneven tire wear
Wandering wheels
Suspension and shock absorber components:
All suspension systems are different, but most include a chassis or frame, coil springs, leaf springs, dampeners including struts and shock absorbers, and anti-sway or torsion bars in various combinations.
Coil springs and leaf springs are designed to absorb up/down forces to keep tires planted firmly on the road. Most modern cars have independent front/rear suspension. Dampeners, namely struts and shock absorbers, dissipate the energy absorbed by coil springs, so up/down motion is quickly reduced to zero. If the dampeners are in proper working order, the passengers should be unaffected by dips or bumps in the road. If shock absorbers are old or faulty, once the car starts bouncing, it continues to bounce for a long time.
Some cars also have torsion bars (anti-sway or anti-roll bars) that span the car's frame and help level out side-to-side motions while cornering. Torsion bars are an important feature of the suspension system, particularly on high-profile vehicles (such as 4WDs) that are considered top-heavy.
The warning signs:
Some of the signs that there are problems with your suspension or shock absorbers could include:
The car not sitting level when parked.
A lot of bouncing when you drive.
Poor handling.
Excessive body roll on corners.
Solutions:
The first step in solving your steering and suspension problem is diagnosing your vehicle. During a Complete Vehicle Inspection, our Certified Service Technicians will inspect all major systems in your car, including the steering and suspension. We'll assess the state of your car:
Front End
Read End
Shocks
Coil Springs
Struts
Bushings
CV Joints and Axles
Chassis Parts
Wheel Bearings
Differential
Power Steering
Power Steering Fluid